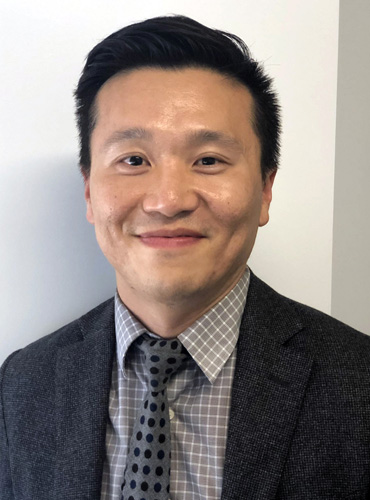 Professor Hou's unique perspective on the human resources field bridges his diverse educational background (5 undergrad majors and a law degree) with his passion for understanding and engaging with people.
He has held various legal, HR, operations and administrative/policy positions within private, non-profit, and public sectors, including Human Rights Watch, the AARP Foundation, the National Park Service, the U.S. Equal Employment Opportunity Commission, the U.S. Agency for International Development and the U.S. Commissions on Civil Rights and International Religious Freedom. "The combination of these experiences brings forth an intersectional schema I deeply treasure and appreciate daily," says Professor Hou. "I've worked on everything from revamping a Commission's Human Resources Policy Book to writing legislation to combat sexual abuse in the military. Throughout these experiences, I was able to view various people operations challenges in different contexts."
Professor Hou currently oversees and coaches staff on all aspects of inclusion, diversity, equity, belonging, and civil rights affairs as the Chief Diversity & Inclusion Officer for LA County Child Support Services. The department is recognized as the first Department in the county to establish an office of Inclusion, Diversity, and Belonging (IDB). He spoke with us about his experience spearheading this IDB initiative, strategies for IDB moving forward, and the importance of understanding intersectionality when creating organizational change.
How do you define inclusion, diversity, and belonging and why is it important?
Diversity is representation in numbers. Inclusion and Belonging are a bit more subjective. Remember that feeling we all had at some point of our lives where we are present yet for some reason we do not feel like we could be ourselves? The focus of the IDB office is to delve into qualitative analytics of this feeling in order to ensure not only inclusion of our diverse colleagues, but also to ensure they can be their true selves at work. When we are our true selves at work, there is no question we will perform our best by being our best.
What is a day in the life like for you as the Chief Diversity & Inclusion Officer for LA County Child Support Services?
Every day I find new inspiration from my colleagues and LA County citizens on dynamic ways to embrace and promote inclusion and belonging. I start every day with a deep dive into the latest trends, data, research and innovative practices on Inclusion, Diversity, and Belonging. I then connect with my Employee Business Resource Group leaders to discuss what we can do to push the boundaries to promote IDB. We are consistently engaged in a learning and development experiment that fosters creativity and the spirit of experimentation.
Another group I work with, the Blue Ribbon Task Force, is a collaborative group of individuals from different roles and walks of life that reflects the population of the County of Los Angeles. The Task Force oversees the accountability of IDB efforts through key performance measures, metrics, and data in the areas of recruiting, retention, engagement, reimagination and beyond.
Other days I find myself collaborating with my colleagues from various Child Support Services across the country, community groups, and beyond to collaborate and share knowledge. Remember, we all only have one walk of life, and it is through others' contextual experiences, can we start to gain solid exposure to propel our knowledge to create in the IDB space.
What are some of the diversity and inclusion activities you have been leading?
The IDB office centers on cultivating cultural curiosity, building a diverse talent pipeline, and fostering inclusive community partnerships. Activities such as cultural forums and newsletters are built towards cultural curiosity to foster intersectional identity understanding.
One of the latest developments is our Mental Health and Wellness employee business resource group (Mindfulness). With COVID-19, the majority of our workforce is remote and there is an imminent need to support individuals experiencing loneliness, isolation, and so forth. With Mindfulness, we aim to reduce the stigma around mental health and foster remote peer and family support/connection/understanding through education and resources.
Another development is with our LGBTQ+ employee resource group (PRIDE). With COVID-19, we transform all LGBTQ+ activities online, including finding creative ways to celebrate Pride Month and to cement understandings of gender, gender identity and intersectional identities. Through this experience, we were able to get our employees to share their stories of embracing their children's LGBTQ+ identity, which has been extremely transformative for my colleagues to be their true selves at work.
What advice do you have for companies or organizations that need help with diversity and inclusion initiatives? Where is a good place to start?
Be inclusive with your IDB leaders because they are all around us. I see many companies/organizations requiring up to a decade or more years of experience for individuals hoping to join the field. This practice is exclusive by nature. IDB leaders should be coming from all walks of life with all sorts of experiences. Remember, crystalized intelligence (the accumulation of knowledge, facts, and skills) can be obtained quickly on the IDB framework ­­­­— what's irreplaceable are individuals who are truly passionate and can relate to the quickly changing needs of the IDB field. These individuals have strong fluid intelligence (the ability to innovatively resolve and strategize logically with compassion).
One of the USC courses that you teach is HRM 550: Change Management and Organization Development. What are the key considerations for HR professionals when implementing change in their organization?
The Change Management and Organization Development class is extremely exciting for me, as my class is always on top of the latest changes happening right now in the world around us.
When implementing change, you have to thoroughly know the culture, the various subcultures, and the intersectionality of the culture/subcultures within your organization and employees. Understanding intersectionality will help leaders to not only achieve change that's visionary yet practical, but also offer a trusted transition in terms of managing that change.
Culture is usually embedded in the leadership vision while subculture and relational analytics are more grassroots. Leadership vision is important, but how the rest of the organization views the culture among themselves via their individualistic connections is even more critical. The subculture tells us what kind of connections we can navigate with each other to explore and experiment with collaborative core functions.
What do you love most about teaching?
I get very excited before my live session every week. Teaching to me is about providing the tools and the framework for my student-colleagues to build upon and create. There's no question people operations is a very challenging field, but my student-colleagues are so talented, ambitious, and bright, I cannot wait to read about their accomplishments. Remember, we are in the business of the people, even though we are there to also collaborate with the organization's executive leadership, we need to remember to always advocate for our people.
Learn more about the MS in Human Resource Management program.