Prepare for the Dynamic Field of Hospitality & Tourism
The hospitality and tourism field is dynamic and incredibly resilient. It requires leaders who are critical thinkers and creative problem solvers. In our program, you will learn enduring skills, which will help you adapt to industry shifts as you advance your career.
Currently, the hospitality and tourism industry is experiencing global disruption. This is not the first time the industry has faced economic or societal challenges, and it won't be the last. However, despite other setbacks in the past two decades, the industry has seen unprecedented growth. International tourist arrivals worldwide have increased from 674 million in 2000, to 1.2 billion in 2016, with projections to reach 1.8 billion by 2030*. While the effects of this pandemic are difficult to predict, hospitality and tourism professionals have the opportunity to use this time to advance their skillset and deepen their knowledge. Our forward-thinking curriculum will equip you with the skills to lead industry growth through innovation.
Our program examines the full breadth of the hospitality and tourism industry. As a student in the program, you'll become well versed in analyzing and managing service quality, marketing, financial and revenue management, human resources, and events. Additionally, you'll learn how to use data analytics to make strategic decisions that benefit your organizations.
We'll also prepare you with the skills and knowledge that tomorrow's hospitality and tourism leaders need. In particular, you'll explore innovations, trends, and technologies, as well as sustainability and diverse and ethical practices.
Source: Highlights 2017 – World Tourism Organization (UNWTO), July 2017
Innovations, Trends, and Technologies
In this program you'll explore and evaluate different technologies and trends affecting the future development of the industry. For example, you'll consider special interest tourism, such as event tourism, film tourism, and agrotourism. You'll also discuss how different technologies like augmented or virtual reality are affecting the field.
Sustainability
Our program stresses both environmental and economic sustainability. You'll explore sustainability standards, benchmarks, regulations, and certifications for the hospitality and tourism industry. And, you'll put this into practice by learning how to conduct an impact analysis.
Diversity & Culture
From the employees you hire to your global customers, this field requires people who embrace and appreciate our diversity and cultural differences. Our program was designed by a multi-cultural faculty team with global hospitality and tourism experience. You'll study cultural, psychographic, and demographic attributes to better understand today's global consumers.
Ethical Practices
Ethical practices are examined throughout the program. You'll explore what ethics are, investigate moral dilemmas in the industry, and assess the intersection of corporate social responsibility, strategy, and performance.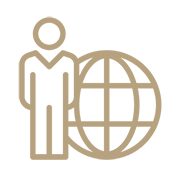 No matter how the industry changes, you'll come out of this master's program with a global perspective and sharp critical thinking skills. You'll be able to look at data and trends and make smart decisions—for both the future of your organizations and for a more sustainable future. The online MS in Hospitality & Tourism program at USC will ensure you are well-equipped with the tools you need to be a leader in the hospitality and tourism industry.