Criminal Justice — Leading Change in This Dynamic Field
The MS in Criminal Justice program at USC gives you the knowledge and skills you need to positively effect change in your agency. Our program is rooted in the latest research in the field, with particular attention to issues criminal justice leaders are facing today. Students learn to become effective change agents capable of evaluating and implementing evidence-based criminal justice policy and influencing organizational leadership.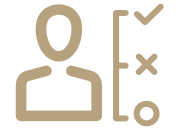 Our curriculum provides a holistic view of the criminal justice environment:
Law Enforcement
Research shows that law enforcement leaders with a master's degree are positioned to better equip their agencies to deal with the needs of the community. You'll learn to assess the merits of criminological and criminal justice theories in relation to crime prevention and control in criminal justice practice.
Source: "Policing around the Nation: Education, Philosophy, and Practice" Legal System
Students will examine the capacity of criminal justice systems to incorporate emerging technologies in accordance with procedural law. For example, students will examine the legal and privacy issues related to obtaining and handling digital evidence. The increasing role of technology throughout the criminal justice system will be explored across the program, touching on topics such as the use of the dark web by criminal organizations to circumvent the monitored areas of the internet, and the integration of augmented and virtual reality to rehabilitate offenders in a correctional facility.
Corrections
Our classes approach change through organizational leadership and policy. In regards to corrections, we focus on evidence-based, positive interventions. For example, we dedicate an entire course to Youthful Offenders and discuss strategies of reducing recidivism within this population.
No matter where your career leads you, our online MS in Criminal Justice program will ensure you are well-equipped with the tools you need to be a leader in the criminal justice system.