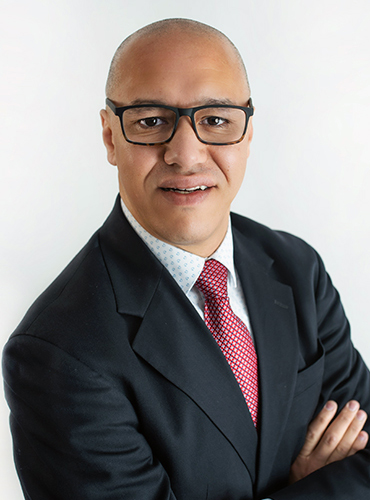 You might say that Dr. Hicham Jaddoud grew up in the hospitality industry. He started his training at a young age, assisting staff at the hotels where his parents worked and lived, learning the business. This early experience served him well; Dr. Jaddoud has over 20 years of experience in hospitality management, specializing in organizational change, operations, and new property openings. He is currently the Senior Director of Hospitality Operations at North Star Mohican Casino Resort in Wisconsin.
Jaddoud earned a BA in hospitality & tourism management from the Université Nice Sophia Antipolis in France, an MBA in business management from Lindenwood University in Missouri, and a DBA from Georgia State University.
Below, he discusses the leadership styles that have led him to success, the importance of understanding the business side of hospitality, trends he is seeing in the industry, and what inspires him to teach future hospitality leaders.
How did you get started in the hospitality and tourism industry?
I grew up in a family of hoteliers. Both my parents worked in the hospitality industry. There was not much for a young boy to do at the hotels where my parents lived and worked, so I filled my time serving the staff, helping out in any way I could. Growing up, the servant spirit remained deep within me when we celebrated family gatherings and holidays, as I created meals and helped entertain our invitees. As a hospitality professional, I have always enjoyed the excitement of the industry, traveling around, and meeting people from different backgrounds.
You have an extensive background in hospitality. What is a common misconception about the field?
The first common misconception is that the hospitality industry only encompasses hotels and travel. They are only parts of the field, which also includes event planning, food & beverage management, casinos, cruise lines, travel-related activities, culinary arts and more.
Another misconception is that job options in the hospitality industry are limited and no specialized (formal) training is required to excel in the hospitality sector. However, a successful career in hospitality requires a significant level of preparation in terms of education, training, development, and continuous learning.
What is your expertise in the hospitality industry?
While I have been exposed to different facets of the business, my expertise is in finance, marketing, and operations management.
I have always been intrigued with how numbers change the dynamics of a business. Having a deep knowledge of financials in the hospitality industry can change the course of the business through accurate forecasting, effective rate/price yielding, and maximization of revenue. Additionally, from a Hospitality Asset Management standpoint, allocating funds to different projects within the hotel, whether renovation, upgrade, or addition of facilities, can change the value of the hotel asset and its position in the market, and allows the business to target higher consumers and charge higher prices.
I also find marketing segmentation, targeting, and positioning strategies exciting. With new generations entering/exiting the hospitality markets, organizations have an opportunity to define new consumer segments. For a hospitality business to be successful, positioning is key. It allows the business to decide which niche to target and which ones to give up.
In addition, I have substantial expertise in opening new properties, including facilitating systems set up and compliance plans, creating Training SOP's, and implementing Sales and Marketing Plans.
Do you have a leadership philosophy that guides your work?
A good hospitality leader is someone who possesses social and emotional intelligence—the capacity to know oneself and to know others and recognize their own emotions and those of others.
A great leader is someone that treats everyone they encounter with dignity and respect and communicates high expectations. I truly believe in empowering individuals and giving them the chance to come up with creative ways to manage and solve workplace issues.
I also believe in Participative Leadership, where every team-member is involved in the decision-making process. When complex matters arise, I adopt a Transformational Leadership philosophy, where I work with teams to identify needed change, creating a vision, and executing the change in tandem with committed members of a group.
What are some trends you're seeing in the hospitality and tourism industry?
In an "Experience Economy," there is a huge emphasis on online reviews and reputation management. The hospitality industry is shaped by consumers' needs and wants. It is no longer enough for the industry to provide great quality products and services. Guests are seeking an experience, emotional attachment, and a connection with the brand.
The future of travel and hospitality is also placing more emphasis on technology. To keep guests and employees safe, facial recognition technology can be used within the hospitality industry for security and access purposes…to grant guest access to hotel room and private functions.
Also, service automation, using self-service kiosks, enables guests to check in and out of their hotel room through an automated process. Major hotel companies such as Hilton and Marriott have already started offering digital room keys that are uploaded to a guest's cellphone once he/she checks in.
The hospitality and tourism industry was rocked by a global pandemic. How do you see the industry adapting?
We are obviously facing a situation without precedent in our lifetimes and careers. The range and depth of disruption is being uncovered daily, if not hourly. However, we are also seeing rapid and significant mobilization and adaptation from hospitality organizations.
As soon as the pandemic hit the hospitality and tourism industry, organizations started working on creating and implementing a Re-Opening Safety Plan – a result of months-long work with public health experts. In addition to the pandemic-related education and training, this includes a mandatory temperature check of every employee and guests before entering the property, along with a required facemask. Other adaptations include thermal camera screeners to detect any person with a high temperature, plexiglass barriers, updated air conditioning units, and planning for a contactless process, using mobile apps to allow guests to check in-out, order food, and request information.
The hospitality industry is very resilient. We will come out of this crisis stronger. The industry is already positioned to weather crises, and we believe continuing to learn and adapt is the best way to get ready for the industry rebound.
Why do you like to teach? Why are you passionate about preparing the next generation of hospitality and tourism leaders?
I enjoy teaching because I see value in sharing my knowledge and making a difference in the lives of other hospitality & tourism professionals. I want the new generation of hospitality leaders to be better than our generation.
There is no better sound than hearing that "aha" moment in class. At that specific moment, I know I have expanded someone's knowledge and experience by sharing some of my own. My main motivation behind teaching is to bridge the gap between the theory and practice to help students gain theoretical knowledge to apply in the real world. In addition to theoretical knowledge and concrete industry examples, I hope that my students develop critical thinking skills and creative problem-solving.
Learn more about the MS in Hospitality & Tourism program.