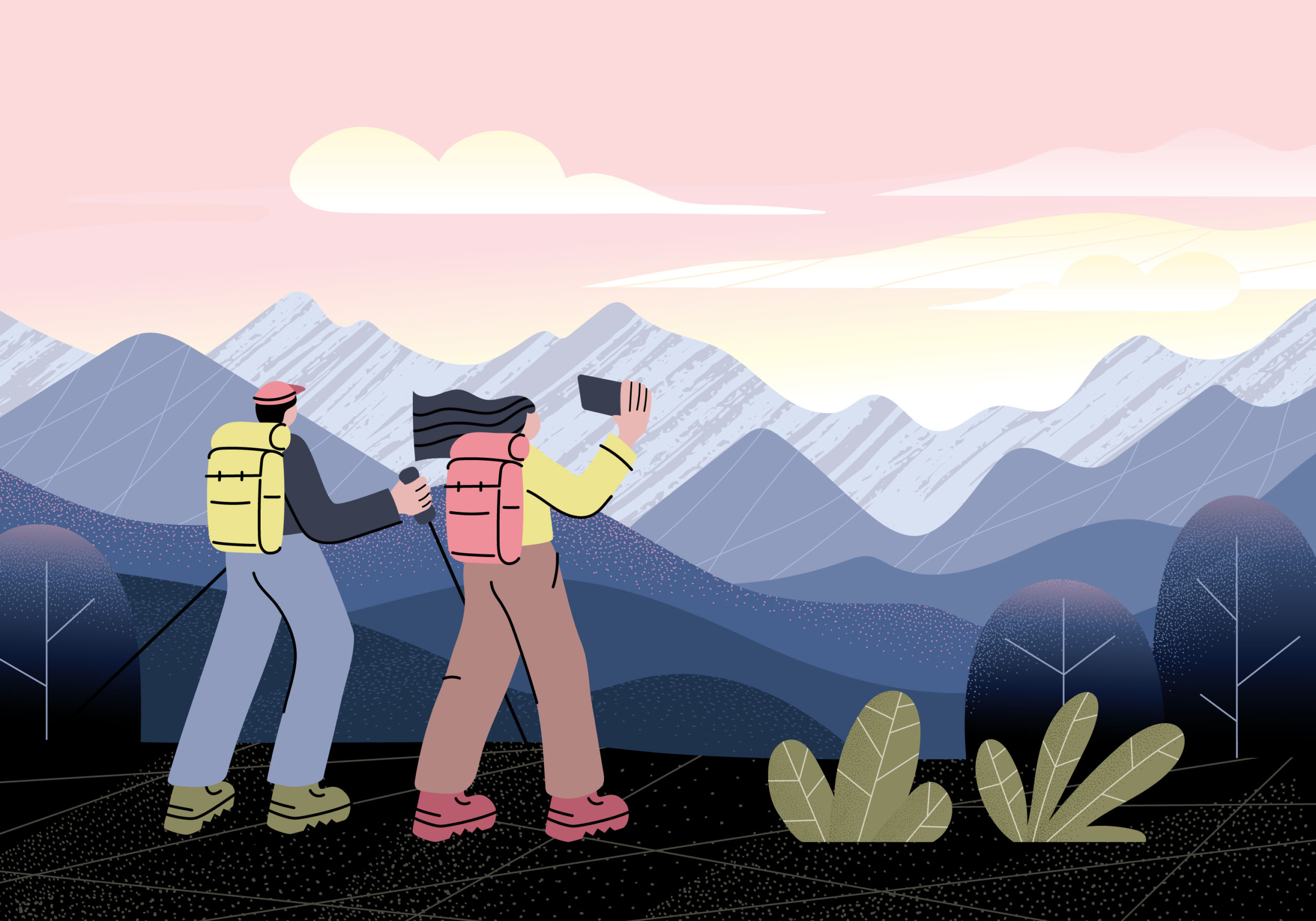 As destinations begin to reopen, hotel occupancy rates rise and flights increase, the hospitality and tourism industry is preparing for a "new normal" following more than a year of unprecedented disruption. With the industry using the recent downtime to reflect and make positive changes, a rebound for the sector appears imminent.
The nonprofit World Travel & Tourism Council (WTTC) has issued a report, To Recovery & Beyond: The Future of Travel & Tourism in the Wake of COVID-19, which outlines a roadmap toward revitalization of all aspects of the industry—from restoring consumer confidence and anticipating changes in traveler preferences to advancing innovation and reducing inequality and environmental impact.
The WTTC polled industry leaders representing a variety of geographic areas and segments within hospitality and tourism and identified four key trends that will drive recovery as well as forge the industry's future. Here, experts from USC Bovard College's Online Master of Science in Hospitality and Tourism program offer their takes on these overarching themes: demand evolution, health and hygiene, innovation and digitization, and sustainability.
Demand Evolution
Consumer preferences have shifted in response to the pandemic, with growing demand for outdoor activities and hospitality, longer average stays and domestic travel favored over international destinations.
"People have been in their houses for an extensive amount of time," says Diana C. Beltran, a hospitality management executive who teaches Managing Service Quality in Hospitality and Tourism. "Adventurous holidays and outdoorsy relaxation retreats are trending. Ecotourism, nature tourism and even volunteer tourism, like beach cleanups, are starting to grow because people do not want to be confined within four walls. Other outdoor activities, such as hiking and horseback riding are booming."
Anna Abelson, who specializes in destination marketing and teaches Marketing Strategies for Hospitality and Tourism, agrees: "Glamping [glamorous camping] and other outdoor hospitality players have been experiencing significant growth. They are booked solid for months."
The trend toward the great outdoors is even evident in corporate event planning. "We've seen companies move to hold events outside when the weather allows it," says Hicham Jaddoud, who serves as senior director of hospitality operations at North Star Mohican Casino Resort in Wisconsin, in addition to teaching at USC Bovard. "That shift is mostly based on consumer preference, because it feels safer to be outdoors."
Travel restrictions also are leading people to remain close to home. "Instead of taking a plane somewhere, people are going more local," Beltran notes.
Leonard Jackson, who teaches Financial Management in Hospitality and Tourism, agrees that people will start off with shorter jaunts and weekend getaways. "Local jurisdictions should promote themselves" to their regional neighbors, he suggests. "People still want to go out."
Travelers are also expected to embrace longer trips rather than the "fast tourism" that had been prevalent pre-pandemic. "Who wants to go to Mexico for three days when they have to get tested before they go and again when they come back?" Beltran asks. "Slow tourism means travelers integrate themselves into the community for a longer period of time. That's a huge plus for the tourism industry, because it doesn't just benefit the lodging that they stay in. They're eating in restaurants that would have sat empty otherwise and they're buying daily essentials from local stores or street vendors."
Health and Hygiene
Establishing trust in health and safety and providing thorough and clear communication are essential to restoring consumer confidence, experts say. This requires further training of hospitality personnel, additional time and expense for cleaning, and working with other industry advocates and government entities to develop new policies.
"In every segment of the industry—from hotels to airlines to casinos to food and beverage—cleaning now takes longer and costs more," Jaddoud says. "Employees must be trained on the new normal, including how to behave when guests won't comply with a policy."
Beltran agrees. "In addition to providing excellent hospitality, staff now need to police guests at the same time—telling people they have to wear masks if they're in our facility or that they cannot be in the pool after a certain time because there's a city curfew," she adds.
Both note that ensuring a safe experience extends to staff as well as guests.
"Hospitality industry professionals are putting their lives on the line just as other essential workers are," Beltran says.
"In addition to financial costs, I think about the psychological and emotional costs to employees and consumers," Jaddoud adds. "At the end of the day, the goal is to restore confidence and get business back to semi-normal."
To help boost consumer confidence, WTTC launched a SafeTravels stamp to identify destinations and businesses that have adopted the organization's standardized protocols for health and hygiene.
"The enhanced process of cleaning, sanitizing and sealing rooms will become an industry norm," Jackson says. "Those changes are great from a consumer perspective."
Innovation and Digitization
The pandemic has proved to be an unexpected catalyst in the industry's path toward advanced technologies.
"That's not just from the guest perspective but also for employees and company procedures, from payroll to accounts receivable to accounts payable, to hiring, to training," Jaddoud says. "It's all going to be driven—and is already driven by—technology."
Contactless technology is a major trend. In addition to QR codes for menus and bar codes that allow your smart phone to unlock your hotel room, forward-thinking companies are creating new apps to enhance their customers' experience. "If you're staying at a Disney resort and want to order room service, you can order what you want with pictures of the food in an app," Beltran says. "Pictures are an international language. You can talk or even chat with guest services on your phone."
Companies are also innovating in hotel design and usage to increase occupancy rates.
"Consumers are tired of the same branded hotel and hearing the same message every time," Jaddoud says. "Now they're looking for a more unique experience and an emotional connection. That's why we see a proliferation of new brands like Elements of Marriott, Aloft—a Starwood brand—or Indigo, an IHG brand."
"It's an exciting time, because we can really get creative," Beltran says. She shared an example of hotels that have converted guest rooms into makeshift offices that can be rented by the hour for people who work remotely but lack space in their homes. "If you're a mover and a shaker, this is a time to shine in the industry," she says.
Sustainability
As planes were grounded and cruise ships docked at the height of the pandemic, a homebound population gained heightened awareness of the impact of travel on wildlife, natural habitats and ecosystems. Dolphins and whales appeared in harbors where they had long been absent, and deer wandered deserted city streets.
"The pandemic helped people in general as well as the hospitality and tourism industry become a little more conscientious about nature as a whole," Beltran says. "Sustainability is not just about the environment. It's also about doing right by local and indigenous communities."
Over-visited travel destinations—like Venice and Barcelona—have long experienced tensions between residents and tourists, and the pandemic shed new light on those issues.
"Now locals see the humongous economic impact of not having any tourists, so they're looking at it differently," Abelson says. "It's the job of the government and the ministry of tourism to address local residents' concerns and find a sustainable balance."
Many locations that depend almost entirely on tourism have struggled over the past year, especially cities frequented by cruise ships. "Those transient one-day guests will bring more money into the city than a resident would in a month," Beltran says.
"So when governments and city officials are looking at the importance of tourism, they have to look at all of this—the environmental impact, the effect on local people who can no longer afford to live there or can no longer do the jobs they were once doing," Beltran says. "We're definitely starting to see a change in how countries will control their international tourists moving forward."
According to the WTTC, 73 percent of consumers are taking note of brands that are making a difference during the coronavirus crisis—from the environment to issues of human equality. While these issues remain complex, the push toward increased sustainability on all fronts will be a major concern, and opportunity, for the hospitality and tourism industry as it renews itself in the years ahead.
Looking Ahead
Hospitality and tourism leaders everywhere have seized the chance to turn some of the challenges caused by the pandemic into opportunities to build an even more positive future for the sector. By renovating facilities, instituting new health and hygiene practices, embracing digitization and innovation, and introducing more efficient and sustainable strategies, they are instilling confidence in consumers, building a stronger workforce and meeting new demand that will lead the sector to recovery.
---
Learn more about the MS in Hospitality & Tourism program.