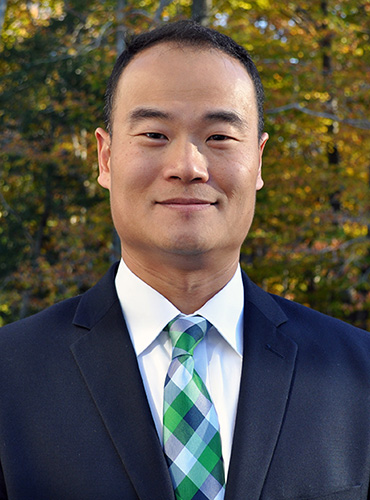 For David Kang, a sense of duty and the desire to serve others is at the heart of his career in emergency management. Like many emergency managers, Professor Kang's experience runs the gamut of public service, beginning with public health and transitioning into preparedness program management. As an emergency manager, he has seen all sides of disasters, from natural disasters to the recent COVID-19 pandemic.
Kang's 20 years in emergency management have culminated with his current role as the Director of Planning and Exercise in the Office of Response and Recovery for the Department of Homeland Security, Federal Emergency Management Agency (FEMA) in Washington, DC. As FEMA's top planner, he is responsible for action plans that structure U.S. response to all forms of emergencies. He takes the no-fail mission of FEMA seriously. From planning for, responding to, and recovery from, he understands the agency has an obligation to manage the full disaster lifecycle. While working for FEMA, Kang has responded to every national-level disaster since 2013.
Below, Kang discusses the evolving discipline of emergency management, his expertise in planning and preparedness, and the major challenges facing emergency managers today.
How did you begin your career in emergency management?
My path to emergency management began like most emergency managers, from an associated discipline. I was working for the State of Alaska, Department of Environment Health, a component of Public Health within the Response field. Later, I became the program manager for Preparedness – managing training, exercises, and homeland security grants. From there, I moved on to manage Operations and finally Planning. I spent ten years working in the field of emergency management for the State of Alaska, Department of Military and Veterans Affairs, working in the Emergency Management and Homeland Security Agency. Over those ten years, I've worked in Preparedness, Operations, and Planning/Analysis/Hazard Mitigation. I now work for the Department of Homeland Security, Federal Emergency Management Agency in Washington, DC. I am currently the Director of Planning and Exercise in the Office of Response and Recovery.
I have a sense of duty to assist people before, during, and after disasters. Everyone in FEMA firmly believes in this mission and the desire to assist individuals and communities on the worst days of their lives.
What do you consider your expertise in emergency management?
My expertise in the field of emergency management is planning. As the agency's top planner, I'm responsible for developing catastrophic plans and conducting crisis action plans during response. Planning is about providing structure to ill or unstructured problems while reducing uncertainty. With the increasing frequency and magnitude of disasters globally, planning has become a sought-after skill set within the field of emergency management. Simply responding is not enough. Structuring the response to optimize resources and make efficient decisions has become a necessary criterion within the field.
What does your day look like in your role at FEMA?
Since 2017, my schedule has been busy based on the number of disasters per year. As Director, most of my day is spent coordinating pre-disaster planning activities. This includes leading and supporting national and regional planning efforts, preparing for hurricanes through the National Hurricane Program, overseeing FEMA's Geospatial shop, planning and conducting FEMA's exercises to validate plans, and managing the Planning and GIS cadre. If the National Response Coordination Center is activated, I will also deploy as the National Coordination Chief. I've responded to every national-level disaster for FEMA since 2013.
What major changes have you seen throughout your career in emergency management?
The field of emergency management is maturing as a discipline and profession. I predict continued growth in the future. With the current risk profiles such as drought, hurricanes, and increased natural disasters amplified by climate change, the field will require professionals with a greater understanding of the principles and fundamentals of emergency management. With more universities such as USC providing foundational education in the field, there will be more well-rounded qualified candidates to fill the increasing employment gaps within the market.
One of the major changes in emergency management over the past twenty years is an increase in professionalism. It's becoming a discipline with more formality. The field is no longer dominated by emergency service responders and the approaches are much more sophisticated. Because the field is becoming more professional, greater demands are placed on the practitioners to solve more complex problems such as the impacts due to climate change and cyber security. I think we'll see more demands being placed on the practitioners in terms of quantity and as the degree of difficulty continues.
What are the major challenges facing emergency managers today?
The magnitude and scope of disasters are the biggest challenges facing emergency managers today. Disasters are becoming more frequent and larger in terms of scope. The recent pandemic is a perfect example. I was deployed for over a year managing multiple aspects of the pandemic. These aspects included the United States' pre-disaster efforts such as developing the National and Regional Biological Incident plans, developing the interagency biological exercises, and as a Chief of the National Coordination Center, I managed the national response.
As an emergency manager, situational leadership, being comfortable with uncertainty, and adaptability to manage crises are required traits for a successful emergency manager. The added political element towards disaster response exacerbates an emergency manager's job as well. Taken together, a job of an emergency manager can be tremendously challenging before, during, and after disasters.
What characteristics make someone a great emergency manager?
First and foremost is the desire to make a positive difference in helping individuals and communities. You need to have a tremendous sense of service to be in this field. In addition, emergency managers must be able to think critically and grasp complexity very quickly. Emergency management is about disruption and there are infinite ways disruptions can occur to current systems. Lastly, emergency managers must be comfortable with uncertainty.
The properties of the hazards and threats such as hurricanes, earthquakes, and terrorist attacks may have similar characteristics, but the impacts may be different. Built-up environments can evolve, populations can change, and infrastructure can degrade. What causes the disaster may have commonalities, but the disruptions can vary because the environment is not constant. Emergency managers can buy down risk through preparedness and planning, but risk and uncertainty can never be eliminated.
What excites you about teaching at USC Bovard College?
The ability to hire stellar students! USC is a top-notch University and Bovard College's philosophy aligns with my pracademic approach toward emergency management. As much as I love teaching, I equally enjoy hiring talented, motivated students eager to make a difference. Bovard College graduates are expected to make an immediate difference in the workforce and that is what excites me the most.
What is one thing you hope your students take away from your classes?
Application of the teaching to their work environments. What I'm teaching is based on 20 years of experience and over 15 years of teaching at the graduate level. I want the students to use the concepts, principles, and methodologies taught in a disaster environment. Simply finding it interesting is not enough for me, it must be compelling enough to apply it immediately within the work environment. I believe students expect this as well.
What activities do you like to partake in during your downtime?
I enjoy spending time with family. With work and teaching, I give quite a bit to the disaster and emergency management community. I usually unwind by spending time with my family doing something outdoors like hiking or other outdoor activities.
Learn more about the MS in Emergency Management program.